Clan Mothers Healing Village and Knowledge Centre is a self-governed land-based innovative village model. This holistic concept is adapted from Ancestral knowledge born into modern times, providing restorative cultural practices for Women, Girls, Two-Spirit and Transgender persons. In a community living environment, Indigenous healing and spiritual mentorship supports individual growth through long term programming, training, and social enterprise.
 A Note From The Clan Mothers Healing Village
We are moving ahead in a steady stream, highlighting Indigenous values and systems of governance, as well as implementing innovative concepts. We are so very proud of our graduates becoming employed immediately after training. This is why 'Clan Mothers Healing Village & Knowledge Centre's' village model is important within our Indigenous communities. Our Elders recognized the importance of the village model inclusive of long term programming paired with social enterprise (job skills training). This model is essential, bringing reverence to Indigenous Womens Leadership as the key to impacting the changes that are happening within our communities, from nation to nation.
Jamie Goulet co founder
"This Village Model is of great value to our communities as it has been said – Our communities will not heal until our women take back their rightful roles as leaders from Nation to Nation" Elder Mae Louise Campbell co founder
Gichi Miigwech,
(We send gratitude in the highest regard)
Jamie Goulet, Co-Founder and Vision Keeper
Clan Mothers Healing Village and Knowledge Centre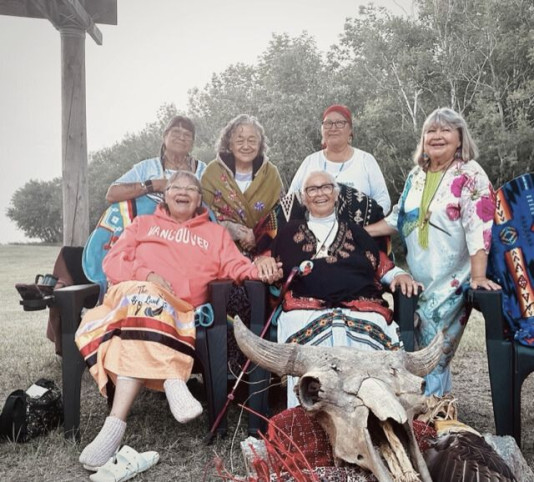 Clan Mothers Healing Village & Knowledge Centre takes a different approach to Leadership
After decades of experience following imposed Patriarchal models of governance that do not work for our peoples, Clan Mothers Village Model has developed a unique style of governance laying heavy on Ancestral values of self determination and self governance within our original mother centred societies. We believe the hierarchy of patriarchy continues to keep our communities out of balance. We are implementing Ancestral values born into a modern context. This focuses on collaborative leadership rather than the top/down unilateral model with a high priority of guidance from a Grandmother Elders Council including lived experienced individuals. Our goal is to leave a legacy by cracking the current codes that keep us bond to a system that has created multiple decades of pain for our peoples, returning to a softer mother centred approach for generations to come. The Balance Must Return!!!
Ashley – Finance & HR Assistant 
Urban Green Team- Myles & Autum 
Pat- Carpenter Program Instructor Cohort 2
"The 500 year old lie- MMIWG2S started when colonizers set foot on Turtle Island. They studied and witnessed that our societies were governed by the knowledge of Mother Earth and all our Relations. Colonizers realized that the female entity in all that exists in our universe were Revered as Sacred by Indigenous peoples. That Clan Mothers & Grandmother Councils held the knowledge to all of life, colonizers quickly put and end to that. Imagine after 500 years + they continue to conquer, devalue through sexual violation, domination, exploitation and murder of our Sacred Women and Mother Earth".
May 19th Wab Kinew came to visit Clan Mothers Healing Village,  we feasted together and shared many heartfelt stories.
Justin Trudeau and Ben Carr Visit
Clan Mother Elder Mae Louise Campbell and Elder Mary Bryan met with Ben Carr and Justin Trudeau also attended the Town Hall.
We are amazed at the amount of allies from the community who came out to help prepare and clean the land for our 3rd annual Moondance Ceremony. Elder Mae Louise and Elder Mary Bryan shared some teachings and explained what Clan Mothers Healing Village and Knowledge Centre means to themselves and the community. Thank you to everyone for you contribution and support.
3rd Annual Moondance Ceremony Update
We are very excited about the upcoming 3rd Annual Moondance Ceremony in Belair, Manitoba, August 2-5, 2023. Every year the gathering grows, and this year we had to close Dancer registration after only a few weeks due to the overwhelming response! We also had a huge number of Helper registrations, and we thank everyone in advance for their generosity and support for this profound Ceremony.
Skills Canada National Competition May 2023 
Winnipeg hosted the 2023 Canada Skills Trade Show & Competition, Guess who had a booth there, Yes!! Clan Mothers Carpentry Training Program and Construction Company. We had an opportunity to see thousands of students excited to get their hands dirty and view our training program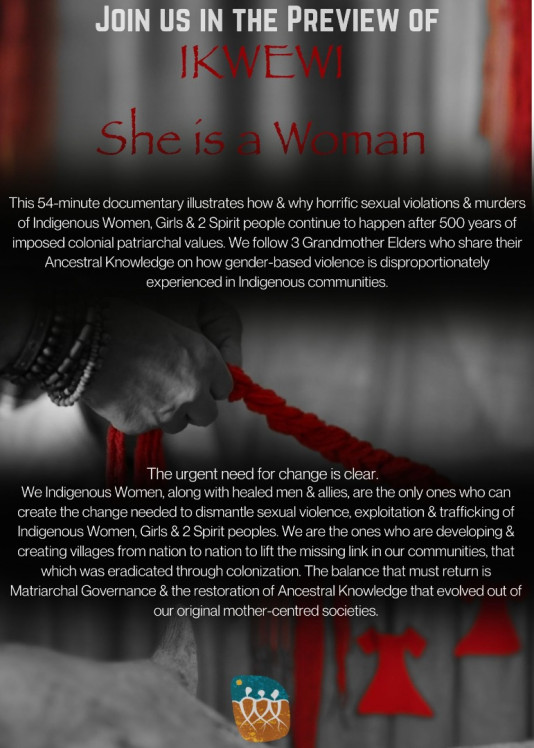 Clan Mothers Healing Village had their first viewing of IKWEWI (She is a Woman)
This documentary film speaks to perspectives on sexuality ranging from pre contact to the current situation of continued systemic degradation, sexual violence, exploitation, trafficking of Indigenous Women, Girls and 2 Spirit peoples. The film follows 3 Grandmother Elders Mae Louise Campbell, Billie Schibler and Belinda Vandenbroeck who share their Ancestral Knowledge on how the current situation of gender based violence is experienced disproportionately in Indigenous communities. Their goal is to bring our women back home to learn how important and Sacred they are by supporting and delivering the growth of Indigenous cultural intelligence.
Carpentry Training Program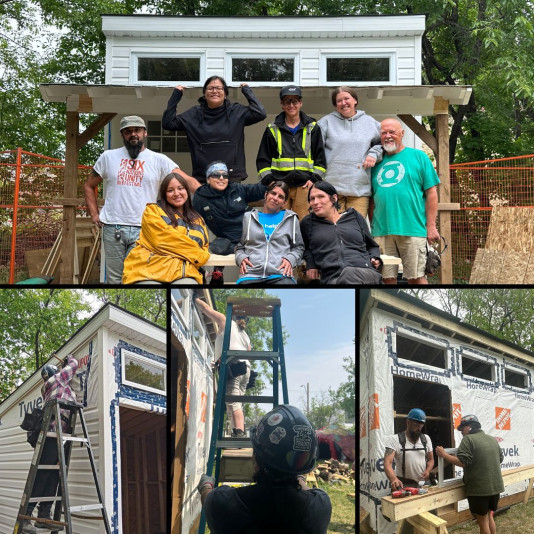 Mother Earth Construction Company
Clan Mothers is excited to announce that we have officially started our first Social Enterprise initiative. Mother Earth Construction – our carpentry company – is officially up and running!
We have hired seven brilliant graduates from the first cohort of Clan Mothers Carpentry Training program. These seven individuals worked through a 10 month carpentry course, including 3 weeks of practicum with Habitat for Humanity. The 10 month skills program also included 1 day a week with Elder teachings and ceremony. The Matriarchal Indigenous component was by far the most anticipated part of each week. The teachings gave the participants hope and support to carry on. They developed a strong sisterhood, and learned to believe in themselves, achieve their goals and accomplish an outcome that now provides them with steady employment. And they are all rockin' it !!
The photos show, the Carpenters doing their last project as students, building a changing shed for our Matotsân Ceremony.
Congratulations to Jenny Lee, Patricia, Amanda, Danni, Mckaylynn, Tracy, and Tia. You nailed it!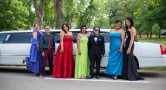 Site supervisors consistently say "This group is amazing!" "Wow! They are such hard workers!" "I am really impressed with the MEC crew!"
Now these seven amazing women, 2 Spirit and Gender Diverse people are working to help build the Clan Mothers Healing Village & Knowledge Centre.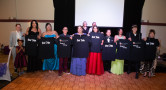 Carpentry Training Program was gifted shirts that they named themselves "Soul Tribe". Elders and staff were so proud of how far they have all come. They are making history as the first graduates of the Clan Mothers Carpentry Training Program, Transitioning from student to carpenter, employed by Mother Earth Construction (MEC).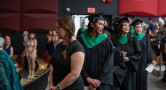 Elder Mary Bryan walked and led Clan Mothers Carpentry students to get their diplomas from Seven Oaks School Division Adult Education Center. Clan Mothers extends gratitude to our partners at Parkwest Projects.The Parkwest people will mentor and guide our crew through all the stages of building the healing village. Some of our crew will enter into an Apprenticeship role, under the supervision of Parkwest.
Kinsmens Jackpot raised 7.6K for Clan Mothers Healing Village
Kinsmen Jackpot had us as their charity to donate to for the whole month of June! 10% Of all sales came to Clan Mothers.
"Clan Mothers recognizes that healing and education must first begin within the heart, before the mind, while the current healing system seeks to heal the mind first. As sexual exploitation and trafficking continue to be social injustices experienced by Indigenous women, it is time for a paradigm shift. New treatment models which incorporate Indigenous methodologies need to be explored, and it is the goal of Clan Mothers to revisit the longstanding Indigenous matrilineal model of healing."
---
Jamie Goulet, Co-Founder of Clan Mothers Healing Village
This message is only visible to admins.
Problem displaying Facebook posts. Backup cache in use.
Click to show error
Error: The user must be an administrator, editor, or moderator of the page in order to impersonate it. If the page business requires Two Factor Authentication, the user also needs to enable Two Factor Authentication. Type: OAuthException